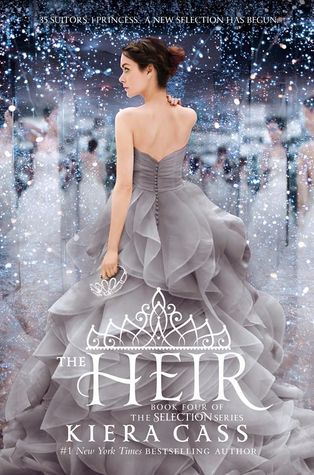 Goodreads summary:
Princess Eadlyn has grown up hearing endless stories about how her mother and father met. Twenty years ago, America Singer entered the Selection and won the heart of Prince Maxon—and they lived happily ever after. Eadlyn has always found their fairy-tale story romantic, but she has no interest in trying to repeat it. If it were up to her, she'd put off marriage for as long as possible.

But a princess's life is never entirely her own, and Eadlyn can't escape her very own Selection—no matter how fervently she protests.

Eadlyn doesn't expect her story to end in romance. But as the competition begins, one entry may just capture Eadlyn's heart, showing her all the possibilities that lie in front of her . . . and proving that finding her own happily ever after isn't as impossible as she's always thought.
***Note: Minor spoilers ahead***
Illea has undergone change after Maxon ascended the throne, with America by his side. Eighteen year old Eadlyn is the next in line to the throne and The Heir follows her love story, pretty much. Maxon got rid of the caste system but not everyone is happy. Disgruntled citizens still exist and cause trouble for the royal family. His proposed solution? Run a selection for Eadlyn to divert attention of the greater public away from the unhappy people. The tables have turned, with 35 male candidates randomly drawn by Eadlyn to compete for her affection.
Eadlyn was a self-centered brat to say the least. It was annoying how she'd boast or complain about her position in the royal family. She's the future queen but she doesn't really do much. She also expects it's a given that everyone in Illea loves her (For what? Being the beloved Maxon and America's daughter?!). She's sheltered and it has made her a brat! If the author was trying to elicit these ill feelings for Eadlyn, then she has done a very good job!
On to the characters I did like: the contenders in the Selection. Everyone's personalities and vibes were so different and it was interesting getting to know them. Kile a childhood friend living in the palace who Eadlyn starts to see as someone different, Henri a sweet foreigner who bakes, Erik Henri's translator (who wasn't Selected but might as well be!), Ean the mysterious confident guy and Hale, Mr. Gentleman.
I was excited to catch Maxon and America again but in this book they're weathered oldies which was a shame. I didn't get a glimpse of their personality traits at all, they were just portrayed as caring parents.
Just like the past 3 Selection books, there isn't much focus on the politics and world building outside of the palace. The focus is mostly on the romance so it was light reading. I quite enjoyed this The Bachelorette-esque book but I still have a way to go in warming up to Eadlyn!