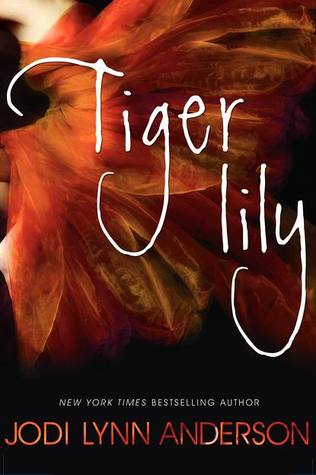 Goodreads summary:
Before Peter Pan belonged to Wendy, he belonged to the girl with the crow feather in her hair...

Fifteen-year-old Tiger Lily doesn't believe in love stories or happy endings. Then she meets the alluring teenage Peter Pan in the forbidden woods of Neverland and immediately falls under his spell.

Peter is unlike anyone she's ever known. Impetuous and brave, he both scares and enthralls her. As the leader of the Lost Boys, the most fearsome of Neverland's inhabitants, Peter is an unthinkable match for Tiger Lily. Soon, she is risking everything—her family, her future—to be with him. When she is faced with marriage to a terrible man in her own tribe, she must choose between the life she's always known and running away to an uncertain future with Peter.

With enemies threatening to tear them apart, the lovers seem doomed. But it's the arrival of Wendy Darling, an English girl who's everything Tiger Lily is not, that leads Tiger Lily to discover that the most dangerous enemies can live inside even the most loyal and loving heart.

The story of Tiger Lily's life is told in the most unexpected way; through the eyes of Tink the faerie. Tink was more of an observer than anything else. It was interesting that she gave a little
push
pinch to the characters to make them reconsider their actions or warn them of dangers. It felt like she was representing us and ultimately unable to choose what would happen to the characters. I thought the POV choice was clever and allowed multiple locations (as Tink moved around Neverland) to be explored, without being bogged down in multiple POVs and ruining the mysterious ways each characters' mind worked.
Tiger Lily started off slow-paced but picked up toward the end. I thought the build up was quite necessary in order to lead to the conclusion which packed an emotional punch. It was a very bittersweet story. There was unfortunately no pixie dust or flying but the writing was magical. Tiger Lily was a breathtaking retelling of Peter Pan.