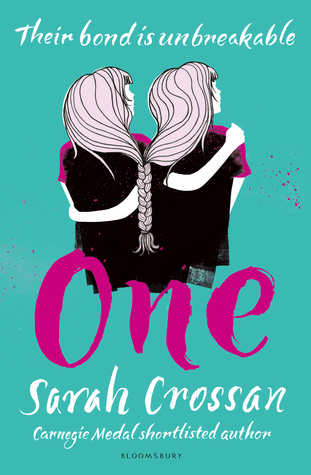 Note: I received an advanced reader's copy of this book from Bloomsbury Publishing via Netgalley. This review is my honest opinion.
One is a story told in the point of view of Grace, a girl who's conjoined to her sister. Due to financial difficulties, Grace and her twin Tippi can no longer be home schooled and are enrolled in a public school. They dread being stared at and talked about for being different.
The blurb was what initially drew my interest to this book. Being a twin, I could understand how close of a bond you can have with your sister but I could not imagine what it'd be like to be literally joined at the hip. This book covered a lot of things I was wondering about and more about Siamese twins. I appreciated that it was realistic and not overly dramatic.
I thought the verse format really made the story flow nicely and it was amazing how choice words by the author conveyed so much. However, because of the length of the writing, I didn't believe in the love story line, which felt kind of depthless seeing as we were not privy to many of their conversations and interactions and Grace merely states her quick forming feelings. That was only a small part of the novel though. The main focus was the bond between Grace and Tippi. They were dealt some unfavourable cards and had to face a life changing choice. By the end of the book I was heartbroken. One was a short read but it was one with insight and impact.