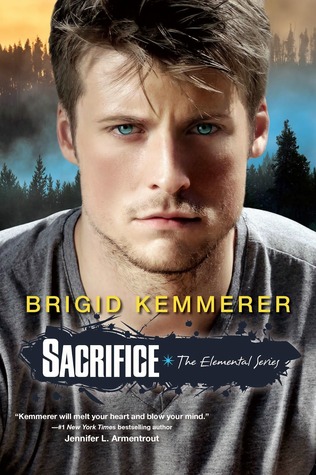 Goodreads summary:
One misstep and they lose it all. For the last time.

Michael Merrick is used to pressure.

He's the only parent his three brothers have had for years. His power to control Earth could kill someone if he miscalculates. Now an Elemental Guide has it out for his family, and he's all that stands in the way.

His girlfriend, Hannah, gets that. She's got a kid of her own, and a job as a firefighter that could end her life without a moment's notice.

But there are people who have had enough of Michael's defiance, his family's "bad luck." Before he knows it, Michael's enemies have turned into the Merricks' enemies, and they're armed for war.

They're not interested in surrender. But Michael isn't the white flag type anyway. There will be blood on the ground tonight…
--- WARNING: Minor spoilers ahead ---
After finishing this book, I am left with conflicting feelings. On one hand I loved getting back into the Elementals world and this book served up the long-awaited point of view of Michael. We get a glimpse beyond the calm exterior of Michael Merrick. On the other hand, this book felt quite inadequate as a conclusion to the series. The other Merricks barely showed up for anything and I kind of expected everyone to be working together as a united front in the 'final showdown' rather than Michael bearing the physical and mental weight alone. As a result, the potential epic factor was lost. I expected Elemental powers to come into play a lot more after the build up of an impending confrontation with the Guides since Storm, but I was a let down as the antagonists turned out to be your run-of-the-mill bad guys who liked to instill fear and didn't have much depth or reason.
Whereas in the previous books I felt the closeness in the relationships between the brothers and enjoyed the family dynamics, in Sacrifice I felt like I was being distanced from that. Hannah plays a large role here and it was interesting to see what family issues she had to sort out though. The author excels in setting up back-stories for the characters despite narration in third-person. I liked the introduction of Irish but his time was cut short and I felt there was more to be explored about him. I wished there was more about the other Merrick brothers too!!!
The book was thrilling and fast-paced. Danger was around every corner. I was in for a unpleasant shock at the terrible fate of one of characters. My heart was ripped out and I was left feeling very hollow during this particular scene. That's how much I was genuinely invested in that character!
I wouldn't have minded if this installment lasted for a few hundred pages more because I didn't want to say goodbye so soon. The Elemental series has a special place in my heart (and on my shelf!). I definitely see myself revisiting the series in the future.
Note: I received an advanced reader's copy from Kensington Books via NetGalley to review. This review is my honest opinion.