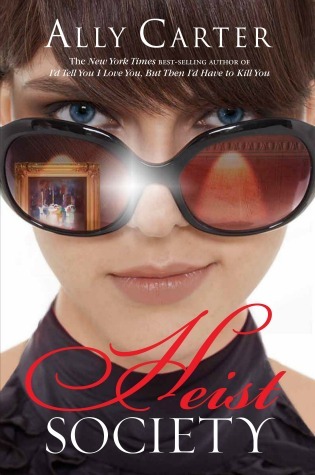 Goodreads summary:
When Katarina Bishop was three, her parents took her to the Louvre...to case it. For her seventh birthday, Katarina and her Uncle Eddie traveled to Austria...to steal the crown jewels. When Kat turned fifteen, she planned a con of her own--scamming her way into the best boarding school in the country, determined to leave the family business behind. Unfortunately, leaving "the life" for a normal life proves harder than she'd expected.

Soon, Kat's friend and former co-conspirator, Hale, appears out of nowhere to bring her back into the world she tried so hard to escape. But he has good reason: a powerful mobster's art collection has been stolen, and he wants it returned. Only a master thief could have pulled this job, and Kat's father isn't just on the suspect list, he is the list. Caught between Interpol and a far more deadly enemy, Kat's dad needs her help.

For Kat there is only one solution: track down the paintings and steal them back. So what if it's a spectacularly impossible job? She's got two weeks, a teenage crew, and hopefully just enough talent to pull off the biggest heist in her family's (very crooked) history--and, with any luck, steal her life back along the way.
Was Heist Society meant to be an exciting mystery? I hoped that was the case yet I didn't get this feeling at all. It lacked seriousness and the characters were too 2D. A bit too cartoon-like.
The main characters (a group of teens) were meant to be top thieves but it was unrealistic to believe this as their actions were sloppy and they relied a great deal on luck. In the teenage team aka the Heist Society, there's Katarina (plain Kat), the good-looking Hale who excels in life by charming his way through (or with his abundant supply of money), Gabrielle the long legged beauty who distracts people with her short skirts, Simon the technology nerd and lastly Hamish and Angus the comedic pair of brothers. Oh I nearly forgot Nick. A really forgettable character. There was not much depth in any of the characters really. They played a role and didn't surprise me by straying away from their script.
The story has a good concept but I think the execution could have been better. The heist society apparently travels the world in their quest to track down some paintings but I never experienced the change in scenery and culture (all I got was a page stating the city and country) or felt there was a significance/beauty to the paintings. Descriptions of the paintings and places would have made it better but they weren't provided so I had to rely on my own limited perception and Google.
The book was by no means boring as I easily finished it. I could hope for some character development in the second book but I'm not in a hurry to pick that up any time soon.