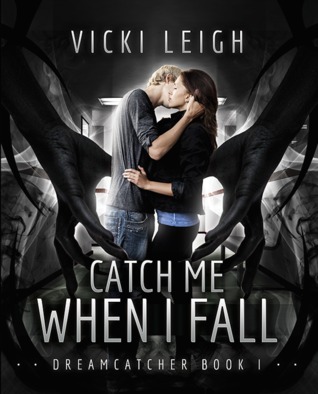 Goodreads summary: Recruited at his death to be a Protector of the Night, seventeen-year-old Daniel Graham has spent two-hundred years fighting Nightmares and guarding humans from the clawed, red-eyed creatures that feed off people's fears. Each night, he risks his eternal life, having given up his chance at an afterlife when he chose to become a Protector. That doesn't stop a burnt-out Daniel from risking daring maneuvers during each battle. He's become one of the best, but he wants nothing more than to stop.

Then he's given an assignment to watch over sixteen-year-old Kayla Bartlett, a clinically depressed patient in a psychiatric ward. Nightmares love a human with a tortured past. Yet, when they take a deep interest in her, appearing in unprecedented numbers, the job becomes more dangerous than any Daniel's ever experienced. He fights ruthlessly to keep the Nightmares from overwhelming his team and Kayla. Soon, Daniel finds himself watching over Kayla during the day, drawn to why she's different, and what it is about her that attracts the Nightmares. And him.

A vicious attack on Kayla forces Daniel to break the first Law and reveal his identity. Driven by his growing feelings for her, he whisks her away to Rome where others like him can keep her safe. Under their roof, the Protectors discover what Kayla is and why someone who can manipulate Nightmares has her in his sights. But before they can make a move, the Protectors are betrayed and Kayla is kidnapped. Daniel will stop at nothing to save her. Even if it means giving up his immortality.
Catch Me When I Fall started off intriguing when the premise of Dreamcatchers and Dreamweavers were introduced. It was refreshing to have the book written in a male point of view as well.
The main character Daniel, is a Dreamcatcher who's assigned to protect Kayla from Nightmares. I found it cool how these nightmares were physical creatures Daniel had to fight. In Kayla's case, an unusual amount of nightmares appear and Daniel begins to stay with her day and night.
Whilst watching over Kayla, Daniel starts to develop feelings for Kayla (fast! too fast? In my opinion, yes). I didn't feel like I got to know much about Kayla apart from her backstory of how she came to live in a psych ward hence I couldn't understand why Daniel fell for her (What made her so different from other people he had to protect over his 200 years as a Dreamcatcher?). It was disappointing how Kayla was mostly helpless and required Daniel to save her in numerous situations seeing as there was potential at the start for Kayla to be a strong character!
I lost interest in the story when the run-of-the-mill save-the-girl-in-the-name-of-love mission came about. Kayla is kidnapped and it's up to Daniel and his friends/colleagues to find her.
Overall, Catch Me When I Fall started off unique but lost it about half way. It was still a decent read to pass the time while commuting.
Note:
I received an advanced reader's copy from Curiosity Quills Press via NetGalley to review. This review is my honest opinion.