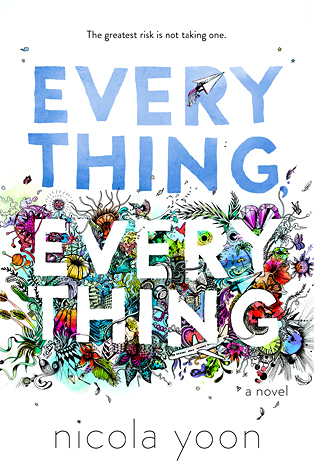 Goodreads summary:
My disease is as rare as it is famous. Basically, I'm allergic to the world. I don't leave my house, have not left my house in seventeen years. The only people I ever see are my mom and my nurse, Carla.

But then one day, a moving truck arrives next door. I look out my window, and I see him. He's tall, lean and wearing all black—black T-shirt, black jeans, black sneakers, and a black knit cap that covers his hair completely. He catches me looking and stares at me. I stare right back. His name is Olly.

Maybe we can't predict the future, but we can predict some things. For example, I am certainly going to fall in love with Olly. It's almost certainly going to be a disaster.
Note: I received a copy via NetGalley to review. This review is my honest opinion.
Madeline hasn't left her house for years because she's allergic to the outside. At home, the air is controlled and filtered and Madeline only communicates face-to-face with her nurse Carla and her mother. When Oliver and his family move in next door, Madeline becomes more curious about the outside and ponders about what she's missing in life. The story unfolds through many ways such as diagrams, drawings, diary entries, pieces of paper and email correspondence. I found this format very engaging.
Given that Madeline has a serious illness, she didn't really act responsible and wasn't really aware of the risks after becoming interested in the boy next door. Their initial meeting and how they got to know one another was cute though it did progress a bit too fast.
There was a bombshell towards the end which delivered a surprise but it wasn't delved into great detail and the book ended somewhat abruptly with lots of uncertainty about what the main character was going to do about her situation. This left me quite unsatisfied since Everything, Everything is a standalone read.