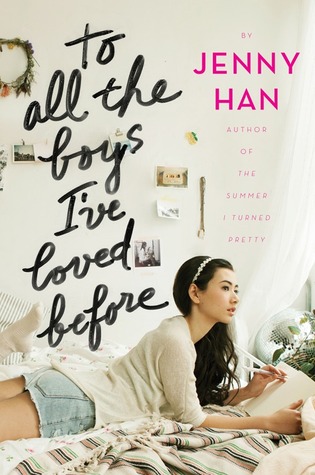 Summary from Goodreads:

What if all the crushes you ever had found out how you felt about them... all at once?

Lara Jean Song keeps her love letters in a hatbox her mother gave her. They aren't love letters that anyone else wrote for her; these are ones she's written. One for every boy she's ever loved - five in all. When she writes, she pours out her heart and soul and says all the things she would never say in real life, because her letters are for her eyes only. Until the day her secret letters are mailed, and suddenly, Lara Jean's love life goes from imaginary to out of control.

This book was beyond cute, tugged at my heartstrings and made me squeal countless times! I liked the focus on family and the Song sisters and father being tight knit. The eldest sister Margot goes to Scotland to study and Lara Jean is left with more responsibility, taking care of her younger sister and the household while their father is busy with work. One day, Lara Jean's secret love letters (which she have kept hidden in a box) are sent out to the boys she's crushed on! One letter is addressed to her sister's ex-boyfriend, boy-next-door Josh. Embarrassing but amusing events ensue. Lara Jean attempts to cover her lingering feelings for Josh by faking a relationship (complete with a paper contract!) with Peter Kavinsky. After drifting apart from him years ago, she is reacquainted and discovers there is more to him than his egotistical lacrosse player facade.
Jenny Han is so expert at writing sweet scenes, heart-wrenching scenes and make-me-feel-warm-and-fuzzy scenes! Lara Jean was extremely likable and with her fun voice it was hard to put the book down. I'm glad there's a sequel because the ending was really open-ended (hopeful but not completely satisfying!). I can see myself revisting this book/series in the future along with the Summer I Turned Pretty series because they are just soooo good!