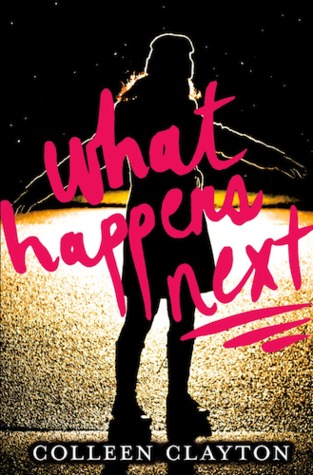 Summary from Goodreads:
How can you talk about something you can't remember?

Before the ski trip, sixteen-year-old Cassidy "Sid" Murphy was a cheerleader (at the bottom of the pyramid, but still...), a straight-A student, and a member of a solid trio of best friends. When she ends up on a ski lift next to handsome local college boy, Dax Windsor, she's thrilled; but Dax takes everything from Sid — including a lock of her perfect red curls — and she can't remember any of it.

Back home and unable to relate to her old friends, Sid drops her college prep classes and takes up residence in the A/V room with only Corey "The Living Stoner" Livingston for company. But as she gets to know Corey (slacker, baker, total dreamboat), Sid finds someone who truly makes her happy. Now, if she can just shake the nightmares and those few extra pounds, everything will be perfect... or so she thinks.

Sid Murphy and her classmates head on a ski trip excursion, where she's beyond happy that an older guy takes interest in her and makes her feel special. She is invited to see him again at a party but everything goes wrong when she turns up inside his residence and he's alone. The next thing she knows, she wakes up in the stranger's bed with no memory of what transpired the previous night.
Back at school, Sid's grades drop, her friends drift away and classmates give her strange attention when they find out she snuck out of the ski lodge during the excursion in the middle of the night to meet a guy. Sid drops a class to get away from it all and signs up for an open position at the audiovisual department. She meets Corey Livingstone also known as the Living Stoner, who has recently been let out of Juvie for growing and dealing drugs.
I loved the message that you can't trust rumours and reputation and paint a whole picture of a person that way. Hell, Sid was going through so much emotional turmoil but on the surface no one was able to tell. Initially, Sid painted Corey in a bad light and decides not to get too close. As Sid spends time with Corey she sees past his reputation and discovers a sweet and funny guy. Oh god, I loved Corey to bits. His personality was amazing. He was comfortable for Sid to be around and was unassuming. The other characters - her best friends (for the most part) and family - were supportive and mindful of Sid even though they didn't know what she was going through alone. I was touched by their unconditional love for Sid.
What Happens Next was a moving story. I can't even begin to imagine what it would be like in Sid's shoes (living on after rape and having an eating disorder) but the writing conveyed Sid's emotions and her thought process and my heart ached for her. I was expecting to drown in a sad story for the most part but there are many bright periods including dialogue which made me laugh and many sweet moments between Sid and Corey.