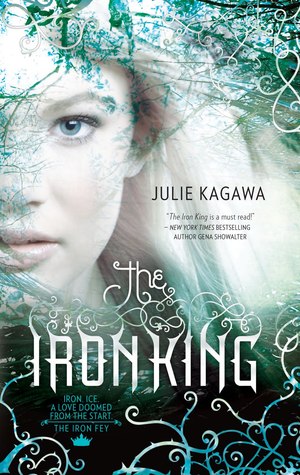 Summary from Goodreads:
Meghan Chase has a secret destiny; one she could never have imagined.

Something has always felt slightly off in Meghan's life, ever since her father disappeared before her eyes when she was six. She has never quite fit in at school or at home.

When a dark stranger begins watching her from afar, and her prankster best friend becomes strangely protective of her, Meghan senses that everything she's known is about to change.

But she could never have guessed the truth - that she is the daughter of a mythical faery king and is a pawn in a deadly war. Now Meghan will learn just how far she'll go to save someone she cares about, to stop a mysterious evil, no faery creature dare face; and to find love with a young prince who might rather see her dead than let her touch his icy heart.
The Iron King started out intriguing and reminded me a bit of those scary movies in which innocent kids have hyperactive imaginations and call out 'mommy!'. Meghan's life seems normal. She attends high school like any other teenager. When her sixteenth birthday comes round, she begins to notice things that other people can't see and she discovers her brother Ethan has been replaced by a changeling. It is up to her to venture into the Nevernever and bring him back. The lead up to her 'quest' was a promising start.
However once we enter Nevernever, things go wacko. I felt a complete change in the pacing. There was not a single moment where Meghan stopped to take a breath. Strange and stranger things are thrown her way and we are given bucket and bucket loads of descriptions. It was a lot to take in!
I found Meghan to be idiotic and less likeable as I continued reading. Meghan was frequently a damsel in distress and her knight in shiny armour (figuratively speaking because of the iron allergy thing) happened to be Ash, an Unseelie/Winter Fey. Ooh, so forbidden! Unfortunately I found their development to be lacking.
I liked the concept of the Iron Fey. It was a cool idea and that part felt original among the the other things which brought Alice in Wonderland and Narnia to mind. Overall, an okay read.