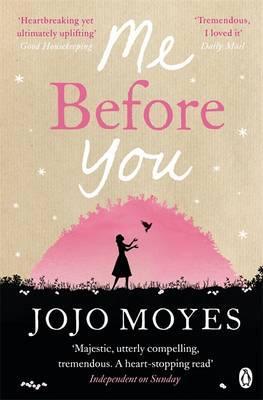 Summary from Goodreads:
Lou Clark knows lots of things. She knows how many footsteps there are between the bus stop and home. She knows she likes working in The Buttered Bun tea shop and she knows she might not love her boyfriend Patrick. What Lou doesn't know is she's about to lose her job or that knowing what's coming is what keeps her sane. Will Traynor knows his motorcycle accident took away his desire to live. He knows everything feels very small and rather joyless now and he knows exactly how he's going to put a stop to that.

What Will doesn't know is that Lou is about to burst into his world in a riot of colour. And neither of them knows they're going to change the other for all time.
The book had a slow pacing with a slice of life quality, an aspect which I quite enjoyed for a realistic genre book such as this. Lou became unemployed after the cafe she worked at shut down and finds herself a new job as a carer, providing companionship to Will, who was left quadriplegic after crossing a road and getting into a motorcycle accident. Will used to be active in sports, successful in business, did lots of travelling and engaged in the pleasures of life but the accident left him confined to a wheelchair, susceptible to sickness and requiring help for even the most basic activities of daily living.
The blurb made the book out to be largely focused on romance. I liked the development of Lou and Will's relationship from strangers to friendship to something more. It was more than romance though. The book was thought-provoking, putting me into the shoes of Will (why could he possibly want to end his life through assisted suicide when he would be causing emotional pain to people he left behind who loved him? Did he not want to continue living because every day he woke up feeling helpless and a burden to those taking care of him?).
Lou was easy to identify with. She was put into position where she had to be what everyone wanted/needed her to be. Her family leaned on her for income and her boyfriend of 7 years wanted her to be someone who took up his interests. I really disliked the character of Lou's boyfriend, Patrick. He was obsessed with himself and his own interests and didn't provide support when Lou needed it. His actions and behaviours were so one-dimensional I couldn't take the scenes he were in seriously. His presence kind of brought the seriousness of the story down.
It was predictable how the book would conclude but it left a deep impression on me. I didn't like the hollow feeling that came with it but Me Before You was a worthwhile, moving read. (The book wasn't all sad and depressing though, there were a few laughs and light-hearted moments.)