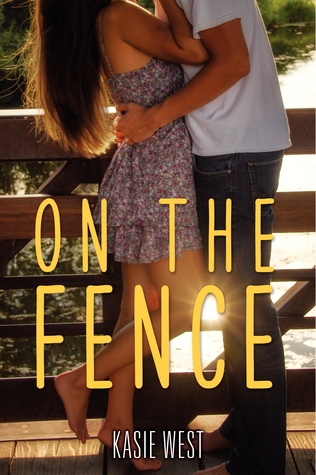 Summary from Goodreads:
She's a tomboy. He's the boy next door…

Charlie Reynolds can outrun, outscore, and outwit every boy she knows. But when it comes to being a girl, Charlie doesn't know the first thing about anything. So when she starts working at a chichi boutique to pay off a speeding ticket, she finds herself in a strange new world. To cope with the stress of her new reality, Charlie takes to spending nights chatting with her neighbor Braden through the fence between their yards. As she grows to depend on their nightly Fence Chats, she realizes she's got a bigger problem than speeding tickets-she's falling for Braden. She knows what it means to go for the win, but if spilling her secret means losing him for good, the stakes just got too high.

I have loved every book Kasie West has written, including this one! She's a queen of spinning love stories and tugging (heart)strings. The summary/blurb pretty much reveals a lot of what happens in the beginning, with Charlie getting fined a speeding ticket and finding a job to pay it off. Charlie hangs a lot with her four brothers and the boy next door Braden, who has been friends with the lot of them since they were young. One night when she can't sleep due to her recurring nightmares, she goes out to the garden for some air and finds Braden sitting on the other side of the fence. Charlie finds herself unloading her thoughts to Braden (something she doesn't do during the day when they hang out) during these fence chats which become a frequent thing.
The dialogue in this book was funny and cute and I loved the way we were let in on the inside jokes shared between the characters. I loved the family dynamics between Charlie, her overprotective brothers and their father single-handedly raising them up. Most of all I loved the contrast between Braden and Charlie's interactions during the fence chats at night (where Charlie pictures a 'disembodied' Braden, hehe!) to their interactions during the day. I was anticipating the time it came when the line would blur!
I devoured this book like multiple Weis bars on a summer's day! On the Fence was sweet and satisfying but definitely left me craving for more because I just didn't want to leave.