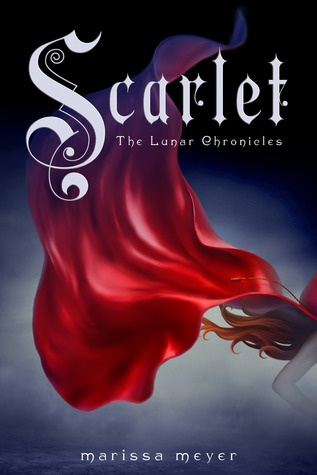 Summary from Goodreads:
This is not the fairytale you remember.

But it's one you won't forget.

Scarlet Benoit's grandmother is missing. The police have closed her case. The only person Scarlet can turn to is Wolf, a street fighter she does not trust, but they are drawn to each other.

Meanwhile, in New Beijing, Cinder will become the Commonwealth's most wanted fugitive – when she breaks out of prison to stay one step ahead of vicious Queen Levana.

As Scarlet and Wolf expose one mystery, they encounter Cinder and a new one unravels. Together they must challenge the evil queen, who will stop at nothing to make Prince Kai her husband, her king, her prisoner...

The twist on the Little Red Riding Hood was noticeable at the beginning but as the story progressed, I quickly dispelled all I knew about that fairytale as the book became more unique and unpredictable.
Scarlet introduces us to some new characters, some of which I liked and some which I was kind of neutral about. Thorne was a welcome addition, bringing much appreciated upbeatness and humour to the story. I'm hoping he gets explored more in future books, like his past or maybe a love interest? It would be interesting to see how things play out with his fun nature! Scarlet I found to be alright. Unfortunately, Scarlet didn't seem to grow on me like Cinder did for me in the first book. Neither did her love interest! Overall, I found that I looked forward to and enjoyed Cinder's and Prince Kai's parts more than Scarlet's.
It was awesome the way the author crossed Cinder's and Scarlet's paths. What started out as separate seemingly unrelated stories gradually connected together to form a bigger story. The world of Luna was further explored and gave me more reason to be scared of (and more reason to loathe) Queen Levana and fear about the fate of Cinder and Prince Kai.
I wonder how Cress will feature everyone introduced so far along with additional characters? I don't want my time reading about Cinder and Prince Kai to be cut even shorter!