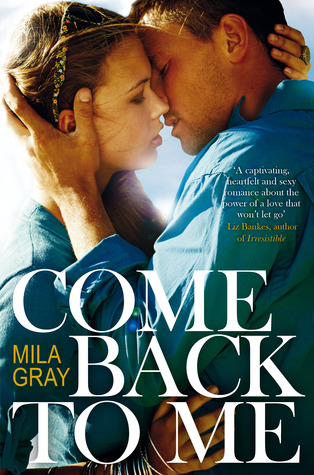 Summary from Goodreads:
Home on leave in sunny California, Marine and local lothario Kit Ryan finds himself dangerously drawn to his best friend's sister, Jessa - the one girl he can't have.

But Kit's not about to let a few obstacles stand in his way and soon Jessa's falling for his irresistible charms.

What starts out as a summer romance of secret hook-ups and magical first times quickly develops into a passionate love affair that turns both their worlds upside down. When summer's over and it's time for Kit to redeploy, neither Kit nor Jessa are ready to say goodbye. Jessa's finally following her dreams and Kit's discovered there's someone he'd sacrifice everything for.

Jessa's prepared to wait for Kit no matter what. But when something more than distance and time rips them apart they're forced to decide whether what they have is really worth fighting for.

Come Back to Me was a pretty predictable story and the voice wasn't quite unique amid all the new adult offerings out there; a variation of the naive female lead not being so innocent after all, her being able to show her true self when she is undertaking her passion (art/music) and/or when she is with the male lead, and the male lead being more experienced and seeing everything of the female lead to be perfect. However sometimes you just feel in the mood to read these kind of books and this is one I gobbled up.
The first chapter of Come Back to Me pulled me in immediately with a gut-wrenching situation, leaving us hanging on a question by rewinding a few weeks and starting the story again. Kit Ryan and Jessa's brother Riley return home from their marine posts for a month, which is the time when Jessa and Kit kindle their love for each other. It's not without obstacles though, with Jessa's dad's mood swings and disapproval of the Ryans, Kit's image to Riley as one who plays around and doesn't commit and the question of how Jessa and Kit will manage without each other when they part in a month. Throughout the majority of this time, Jessa and Kit are forced to keep their attraction and meetings a secret. There definitely was sizzling chemistry between them and progressively steamy scenes hot enough to warm me up during the cold winter! It did come to a point where the story was basically about when Jessa was going to lose her virginity before Kit returned to his military post (there were only a few times when they really talked and appreciated each other's company other than in the physical way). The story does pick up steam (in a different sense!) near the middle with the return to the first chapter and the answer unfolding to the nagging question which was always in my thoughts. From there on, the topics of forgiveness and the importance of family were explored.
Even though it was tied up a bit too neatly, I liked the closure of the book. All in all an engaging read.
Note: I received an advanced reader's copy from Pan Macmillan via NetGalley to review. This review is my honest opinion.