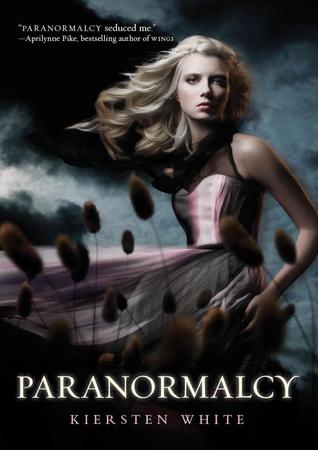 Summary from Goodreads:
Evie's always thought of herself as a normal teenager, even though she works for the International Paranormal Containment Agency, her ex-boyfriend is a faerie, she's falling for a shape-shifter, and she's the only person who can see through paranormals' glamours.

But Evie's about to realize that she may very well be at the center of a dark faerie prophecy promising destruction to all paranormal creatures.

So much for normal.
To be honest, going into this book I had a feeling this would be a laid-back read. It was more than that! The author writes lighthearted and serious equally well. A particular scene was utterly spine-chilling which I wasn't expecting!
I loved the charming narrator Evie, who was kick-ass and amusing. Being inside her head was fun and entertaining. Lend, the shape-shifter who Evie caught sneaking in the IPCA centre with the director's appearance, was an awesome character. He showed that you don't need to be a bleeping-mysterious-hot-and-cold-dangerous-bad-boy to win a girl's heart. I had bad feelings towards Reth (who Evie had a thing for when she was younger), a dangerous faerie described as possessing unfathomable beauty. I applauded that the author did not go down the route of making this bad boy figure desirable.
It was understandable that Evie lost some of her upbeatness after some events. The absence of her upbeat self was quite tangible, at times making it feel like I was trudging through the book having not as much enjoyment as I had in the beginning.
There was no shocking cliffhanger at the end but the characters alone are enough to make me want to read the next installment.